Boar Stud
We continually strive to produce quality show pigs with proven genetics. If you want genetics that have proven themselves time and again, give us a call!
Download & print our Semen Sales Policy & Warranty - Click HERE
(PDF document, requires Adobe Reader)


Please call Jody at 517-524-7616 or cell 517-812-6187 to verify availability.

All orders must be pre-paid by credit card.
US ORDERS ONLY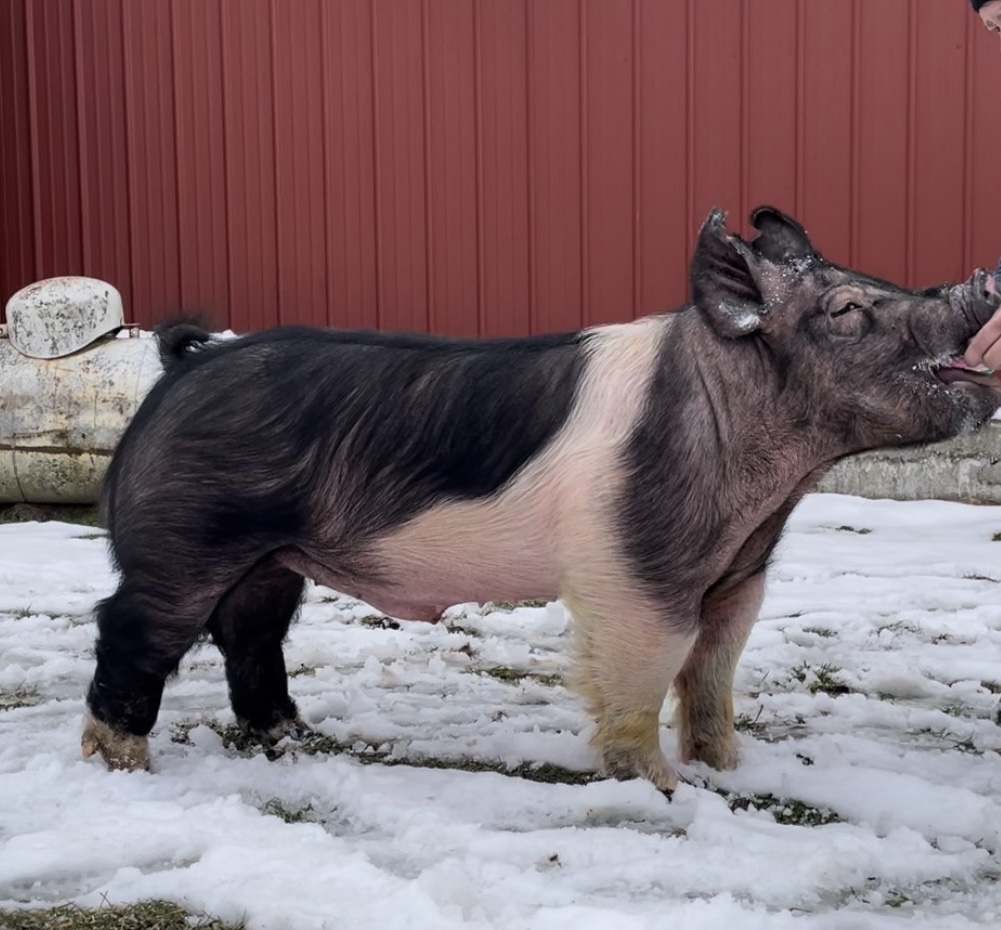 NEW 2023
Dirty Game - $50 per dose
End Game x Dirty Traveler
We are flat out pumped about this guy. He is incredibly good fronted and has a tremendous reach. Clean joints and out of this world bone. His hip and hind leg are tremendous. He's stout skulled and right in his build. No fluff here this guy has been in is work clothes from day one. He's got the look and the pedigree to make great ones. Comes from a litter of 17 and momma raised them all. We have sold two littermate boars and retained three littermate sisters.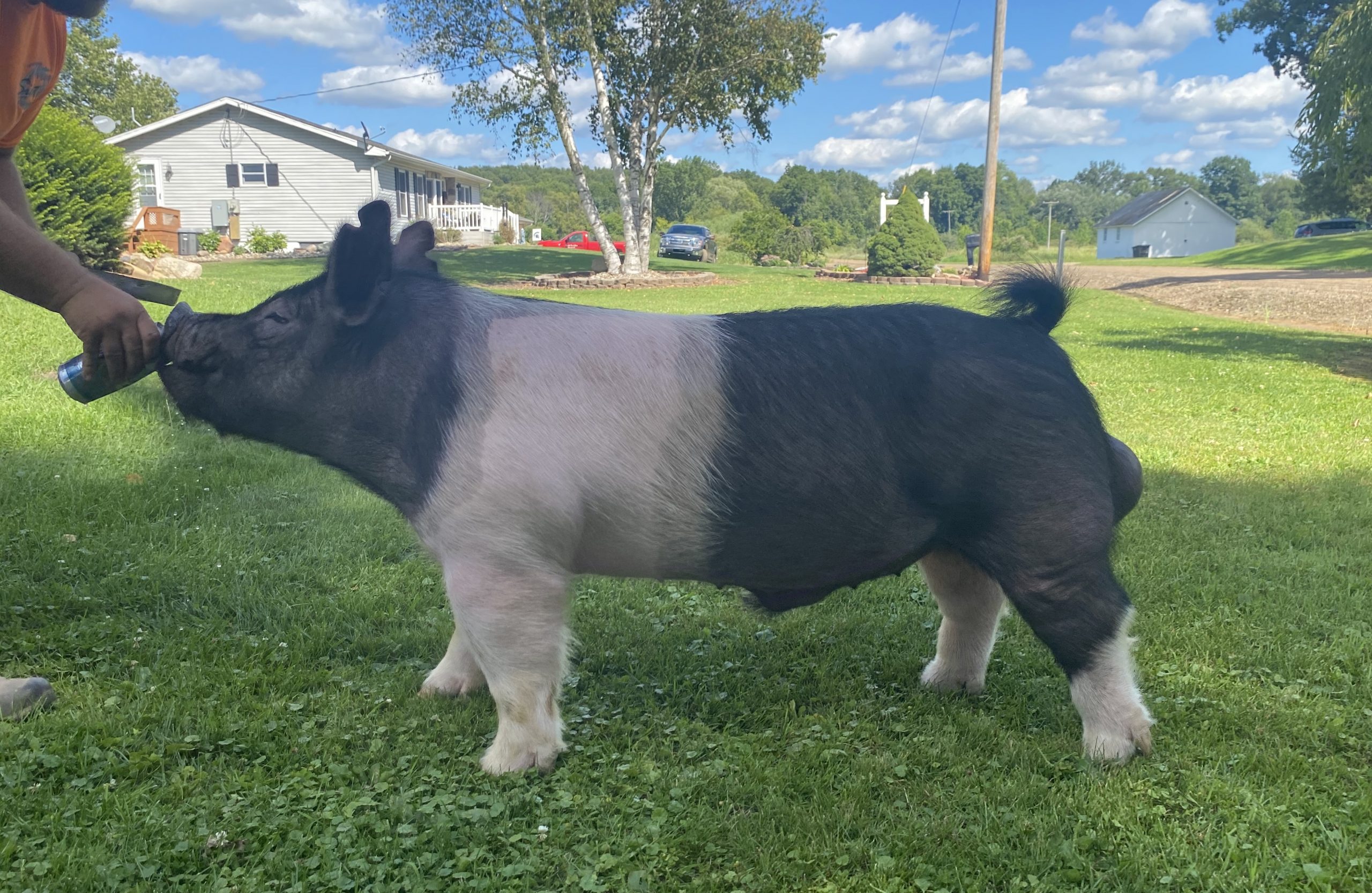 NEW 2020
GUNS OUT- $50 per dose
HUSH MONEY X UNDISPUTED X SOLID MONSTER 
Hush Money son we are very excited about… The mother of this guy is a very special female that was exhibited by the Keeter Family in Oklahoma which had a very successful show career. She was Champion division 2 gilt at OYE and was Reserve Grand at the SW District show. She is also the mother of the popular END GAME boar that was sold Premium Blend last Spring. She also raised the reserve lightweight barrow at ILSF 2019 and the popular Herdsire Hands to Yourself at TKO genetics in Oklahoma. The Genetics behind this one is potent and we feel this is a very special individual himself. Thanks to Clay Parrish for the lead on this guy. 
Video Link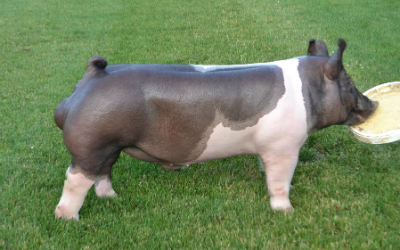 2014 Purchase - RETIRED
Tyrant
Bone Thug x No Fare (No Mercy's Litter-mate Sister)
The MOST UNIQUE Bone Thug we have found to date!! Hip and hind leg are incredible.Long hipped and square pinned.Perfectly square hock to ground and reaches like ALL champions do!! He is tall shouldered, great fronted and big ribbed. If he makes barrows built like him, WOW, we wouldn't want to drive against them!!
Update: Yep he's still that good and yes still collecting him 7 years later. I bet there isn't one Bone Thug son left in this country. If you want to see him...call me...he's incredible. His females flat out produce. This may be the last chance to get this powerful pedigree 
Stress Negative
Owned by Arbuckle Showpigs, Albright Swine Farms and Duane & Nancy Trupiano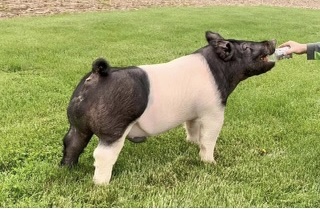 New 2021 - RETIRED
Say It Lowder 
Never Before x Make it Easy x Predator x Monumental
Say It Lowder is our 2021 Draft purchase from Troy Lowdermilk. His mother was 4th overall Division 1 Cross Gilt 2019 Indiana State Fair and Reserve Cross Gilt 2019 Eastern Regional. Mom also raised Champion Cross Boar 2021 Winer Type Conference. The is plenty of power in the pedigree with Say it Lowder. This guy is flat out solid. Long fronted, heavy boned, and sound. This guy will be used a lot.